GOMLF, in collaboration with the Maine Department of Marine Resources, was one of fourteen organizations to receive funds through the National Fish and Wildlife Foundation's Gulf of Maine Environmental Compliance & Protection Fund 2009 for a cooperative two-year pilot project to recover, document and properly dispose of derelict fishing gear.
Funding for the grant resulted from organizational community service payments ordered as part of a criminal penalty imposed upon a shipping company for criminal violations related to deliberate vessel pollution in close proximity to the State of Maine. The prosecution of the case was made possible through the combined efforts of U.S. Coast Guard resources and the United States Attorney for Maine.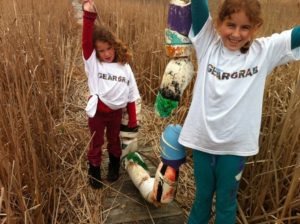 To recover the so-called 'ghost gear', GOMLF contracted with fishermen to drag specially-made grapple gear in certain areas where traps are known to be lost, and where grappling is a viable retrieval method. Ten vessels were hired in each of the seven lobster management zones, working for two days in designated areas. Recovered gear was brought to a central wharf for sorting and processing. Information about by-catch, escape vent functionality, and age of trap was recorded for each trap. Traps that were unusable were crushed and sold to a metal recycling company; fishable traps were returned to their owners or stored by Maine Marine Patrol for future reclamation.
Hearing about the success of the gear retrieval program and wanting to give back to the lobster industry, the New York Yacht Club initiated a contribution to GOMLF for use in recovering traps in areas where the sailing fleets often hold their regattas. For more details, see the press release.
About Gear Grab
No lobsterman worth his salt would choose to lose his gear…yet hundreds of traps are lost or abandoned from broken groundlines and buoys buffeted by storms, or cut loose by boat propellers. "Ghost gear" can cause problems for navigation and for harvesting lobsters and other seafood from the state's cold waters. Salvaging the recovered derelict fishing gear can save thousands of dollars for local fishermen and protect the marine habitat.
Capitalizing on a successful at sea derelict recovery and disposition project conducted in 2010-11 funded by the National Fish and Wildlife Foundation, the Gulf of Maine Lobster Foundation developed the three-pronged GEAR GRAB initiative to engage a diverse spectrum of community stakeholders—lobstermen, students, youth organizations, community members, divers, local businesses, recreational boating groups, State of Maine marine patrol, recycling companies and other non-profit organizations—in addressing the economic and environmental impact of ghost gear and marine debris. The National Fish and Wildlife Foundation Fishing for Energy Program and the NOAA Marine Debris Program are the primary funders, augmented by individual and corporate donations.
GEAR GRAB includes:
At Sea Recovery
The Gulf of Maine Lobster Foundation is leading the charge to recover and dispose of derelict fishing gear— "ghost gear"—recovered from Maine's ocean floor. Fishermen volunteer their time, sternmen and vessels to grapple for traps. Recovered gear is brought to a central wharf for sorting and processing. Salvageable traps are returned to their owners; unusable traps are disposed of and the steel is recycled. Information about each recovered trap is recorded and given to scientists to assess the impact on marine habitat.
Gear Collection and Recycling
Fishermen can dispose of old, used or unwanted fishing gear without incurring the disposal costs often incurred at transfer stations. Wire or wood traps, buoys, warp, nets, or other equipment (no vessels) can be brought to designated collection sites. All gear collected is repurposed, recycled for metal scrap, or burned at a waste-to-energy facility.
Community Shoreline Cleanup
Extending the trap cleanup to land, as some groups have done on a small scale, is a logical next step. More than just a beach clean up, this is about engaging fishermen and their local communities in taking ownership of their piece of the Maine coast. Leading the charge are the fishermen; along side are their families, students, youth groups, and businesses.
Gear Grab In Action
The Gulf of Maine Lobster Foundation is leading the charge to recover and dispose of derelict fishing gear and marine debris with its three-pronged GEAR GRAB initiative–designed to inform, involve, and improve the lives of fishermen and the communities in which they live along the Maine coast.
In 2010-11, 70 boat captains volunteered their time, sternmen and vessels, in exchange for a small fuel stipend and the satisfaction of recovering lost gear during our at sea-recoveries. 3,372 ghost traps were recovered. 1100 traps were returned to their owners. 21 tons of steel from the non-useable traps was recycled and proceeds were reinvested in the project. During the Gear Collection and Recycling Days, GOMLF collected over 43 tons of gear. GEAR GRAB continued in 2012 with at sea recoveries in Harpswell and Tenant's Harbor. Gear Grab in the News:
Why is derelict fishing gear a problem?
Studies estimate that 175,000 lobster traps are lost in the Gulf of Maine on an annual basis. The corresponding economic value of this loss is staggering-between loss in revenue and the need to pay for replacement product, derelict fishing gear causes a loss to the lobster industry as a whole of $16,000.000.
Derelict fishing gear is suspected to be a threat to marine life. In the past 50 years, there has been an explosion of synthetic materials such as plastic in fishing nets, traps, and line. As these synthetic materials are often non-biodegradable, the age-old problem of derelict fishing gear has transformed from a temporary marine hazard into a death sentence for commercially valuable fish and lobster caught long after the traps were lost or abandoned. Threats to human safety (entanglements of divers and hazards to navigation) and property damage to vessels round out the seriousness of the problem.
Why don't the fishermen recover their lost traps?
Cleaning up derelict fishing gear isn't as easy as it sounds, as it's illegal in Maine to handle a lobster trap that you don't own. These rules are intended to prevent vandalism or theft, but unfortunately serve to exacerbate the derelict fishing gear problem. The Gulf of Maine Lobster Foundation works with the Maine Department of Marine Resources to secure special permits to allow the handling and recycling of the gear. GOMLF is the only organization to do the at-sea recovery work under such authority.
Who?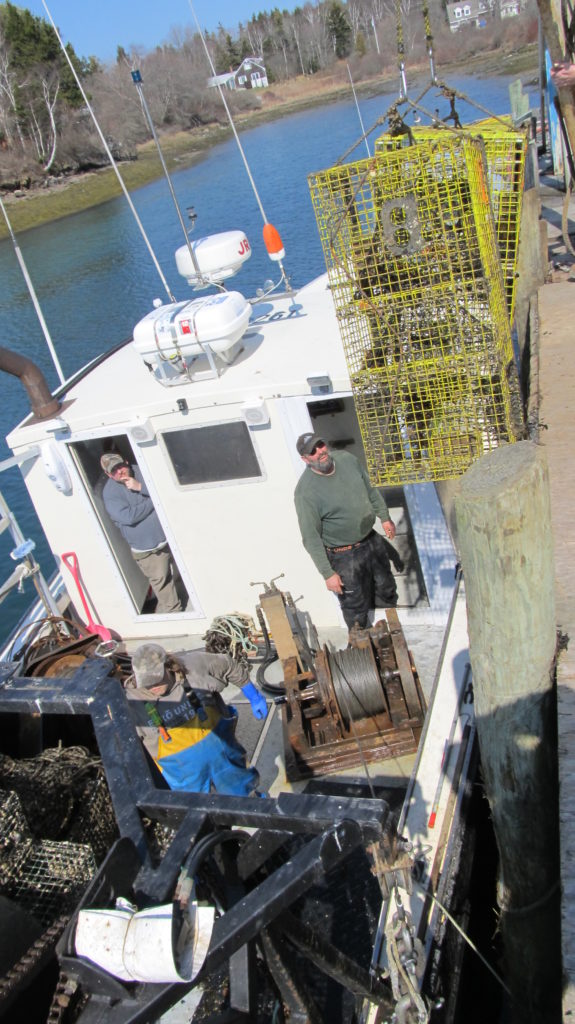 The Gulf of Maine Lobster Foundation (GOMLF), a 501 (c) (3) organization based in Kennebunk, Maine, collaborates with lobstermen, scientists and local communities to support a healthy lobster fishery in the Gulf of Maine. The Maine lobster fishery is New England's largest, accounting for 100 million pounds in 2011, valued in excess of $300 million.
GOMLF conducts vessel-based fieldwork, encourages good stewardship, and provides outreach and education on the marine environment. With a board of directors comprised primarily of lobstermen and a direct line to fishermen who are willing to collaborate, GOMLF is in a unique position to effectively communicate with industry stakeholders.
GOMLF has administered over 20 projects during the last 10 years and was the first organization in Maine to receive federal funds for ghost gear recovery and collection. It enjoys a collaborative relationship with dozens of organizations including:
Blue Ocean Society for Marine Conservation
NOAA Marine Debris Program
Massachusetts Sea Grant
National Fish and Wildlife Foundation
Maine Department of Marine Resources
Massachusetts Division of Marine Fisheries
Maine Coast Heritage Trust
GOMLF continues to operate out of a small office to maintain low overhead costs. It takes pride in all the work that has been accomplished and looks forward to continuing into its 11th year of collaborative initiatives within the Gulf of Maine.
Contact
For more information, to share ideas, make contributions, collaborate, volunteer for an at-sea recovery or a coastal cleanup, just shout. Send an email to Erin Pelletier at erin@gomlf.org or contact us the old fashioned way:
Gulf of Maine Lobster Foundation
P.O. Box 523
Kennebunk, ME 04043
Phone: 207-985-8088
Fax: 207-985-8099
Take Action
Volunteer for a shoreline cleanup
Volunteer for an at-sea gear recovery (small stipend provided)
Dispose of unwanted gear
Buy a GEAR GRAB t-shirt
Donate
Community business sponsorships
Thank you to our GEAR GRAB sponsors: